Keeping my DJI Mavic Air 2 instead of Mavic 2 Pro
Why I am Definitely keeping my Mavic Air 2 and happy I bought it instead of the Mavic 2 Pro!
I've owned a Mavic Air 2 now for some time and I am ready to describe it's awesome features to you in this article. I have a background in rc model airplanes since 25 years, and have previously owned a DJI Phantom 1, DJI Phantom 3 Pro, and now the DJI Mavic Air 2.
There are a few video reviews that I have seen that were not that positive about the Mavic Air 2, and I would like to disagree!
The Mavic Air 2 works with the new DJI Air App, and to be honest that was the first feature that almost put me off buying it. I couldn't find that much info on the DJI Air app, and it appeared as though a lot of the functionality would just not be available while flying the Mavic Air 2 with the DJI Air app. But as I spent more hours researching before buying, I figured it was mainly just a much cleaner design in the App, and not a reduction in functionality!
Don't get me wrong, I was initially dead set on getting the DJI Mavic 2 Pro. But when I started comparing the features of this drone with those of the Mavic Air 2, and the related costs, plus the purpose that I would be using the drone for, I decided it wasn't worth spending the extra money, and that the Air 2 was the much better option. The Air 2 was also a much more recent production, which came out in May of 2020, compared to the Mavic 2 Pro that has been around since 2018!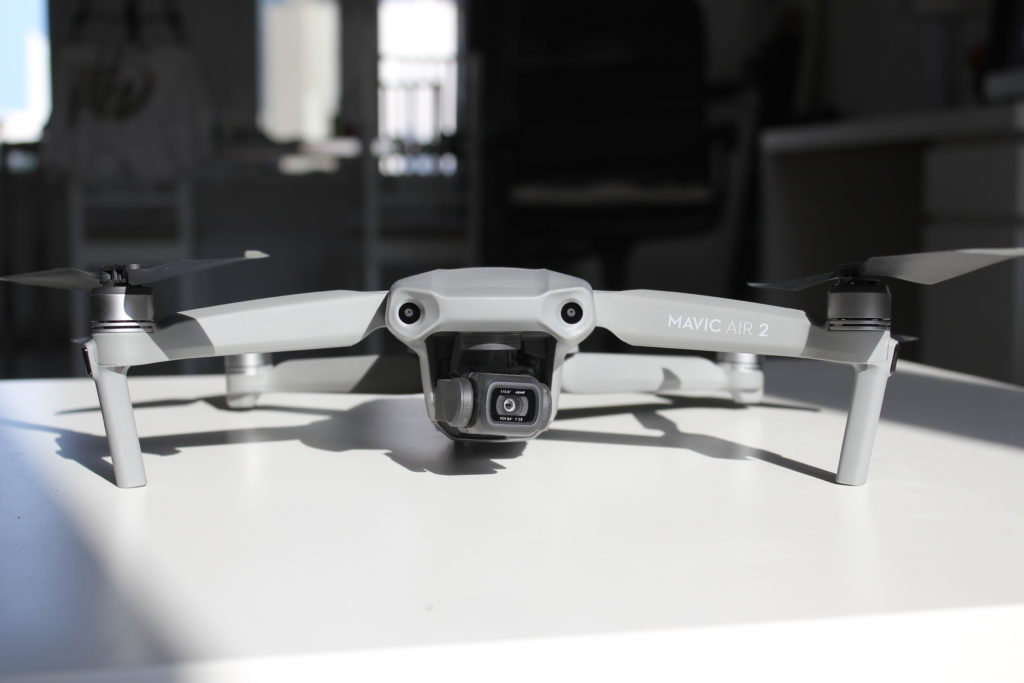 The functionality of the Air 2 is in some ways even more expanded than that of the Mavic 2 Pro, as the Air 2 is capable of filming 4K at 60 fps, whereas the Mavic 2 Pro only does 4K at 30 fps. The flight time on single charge is also advertised as being better, 32 minutes for the Air 2 compared to 34 minutes given for the Mavic 2 Pro.
Of course the camera and sensor are quite different between the DJI Mavic 2 Pro and Mavic Air 2.
The Mavic 2 Pro features a 1 inch sensor whereas the Mavic Air 2 has a 1/2 inch sensor. But those are only numbers. You would want to compare actual footage and then decide. For that purpose there are plenty of videos online. Including one of my own I have recorded so far.
But then you have to think of what your purpose is for your video. In my case, it's for my Youtube channel. And if you've ever looked at the analytics for your channel, you'll quickly find out that most views are on mobile. So do you really need the highest available detail in your video? Or is that just going to fill up your hard disk so much faster? For me it made the choice much easier.
Comparing also the cost, I was able to get a Combo package for the Mavic Air 2 for 1000 Euro's about 1100 USD. For the Mavic 2 Pro, the Combo package came out at 1600 Euro's. Now that's a significant difference. And the combo is really what you need if you are planning on actually putting the drone to good use. The 3 batteries in total and battery hub charger are essential really. And the 2 extra sets of propellers also make sure you won't have to go back to the shop in a few months time when your propellers start to wear out a little. Worn propellers won't be as efficient but more important are certainly going to introduce vibration in your footage which is the last thing I want to see!
If you are interested in comparing the drones further, or would like more info from the source, be sure to check these drone out at dji.com
Thanks for reading and you can look forward to more DJI Mavic Air 2 Footage in the future!